Helping Wish redesign its account creation experiences
As part of my interview process with Wish, I was asked to
Dive deeply into one problem you find in the Wish mobile app and design a solution. How can your solution be an impact on user acquisition, retention, engagement, sales or other attributes?
Length of the project: 4 days
My Role: User research, User experience design, Visual design, Prototyping
Teammates: Individual design exercise
Keywords: App Design, E-commerce
Mission statement
After studying the Wish app for some time, I found that there are a lot of frictions with the account creation moment. As a result, I created two how might we statement on the problem I intend to address. One is customer-facing and the other enterprise-facing
How might we:

1.Improve sign up experience in the most frictionless way

2.Bring more users to Wish through the account creation moment
I made three changes to Wish's account creation moment as following:
1. Moved the account creation moment to right after users put items in their shopping cart on the Facebook platform and right after they save an item to their wishlist in the app.
2.Reduced the multi-step account creation experience to one-tap account creation process:
3. Prioritized Facebook signup and added mobile number signup.
New sign-up flow for the impulsive-shopper persona
After a long day at school for finals, Allison, an impulsive shopper, returns to In her college dorm. "Finally I'm done with my finals, it's been a while since I checked my social media…". As she browses her social media feed, some recommended clothes from Wish suddenly caught her eyes. When she enters Wish web app via Facebook, she's able to immediately review the item details. Before, she had to sign up an account right away to further review the details.
New sign-up flow for the browser persona
Katherine, a browser, is taking a lunch break at her company. "Lemme take a break by looking at some clothes…", she thought. After browsing through her Wish feed, she found an bag she really liked and decided to add it to her Wishlist. At this point, a signup prompt appears and she happily signed up for a Wish account. In the previous version, she had to sign up for an account right away when she enters Wish app.
I conducted background research on E-commerce landscape in U.S, analyzed competitors such as TaoBao and AliExpress. I also interviewed 2 Wish users and 2 TaoBao users.
My research focused on answering 3 key questions:
1.What is Wish used for?
2.What is the user flow of Wish's primary users?
3.What are some problems users encounter and how do they solve it?
1.Wish is a leading cross-border e-commerce player in US
It's top sold items are clothes, consumer electronics and jewlery
2.Wish's primary users are females from 16 to 25 year old
I summarized this group of users into 2 main personas:
Allison, the impulsive shopper
18, Freshman in college
1.Buy immediately if she likes an item
2.Access Wish's via Facebook.
3.Experimenting with her styles
4.Love to share great finds with friends & families & also ask friends for fashion advice
Katherine, the browser
23, incoming HR at a tech firm
1.Save items to shopping cart / to wish list, and purchase after several visits
2.Developed personal style
3.Access Wish via mobile browsers / native apps
4.Love to share great finds to friends & families & also give friends fashion advice
3.Wish's account creation process is difficult to complete, and it fails to provide Wish the optimal business values
1.Signup flow is placed at where users have little motivation to create an account
Even though Allison and Katherine's shopping behaviors are distinctively different from one another, they encounter Wish's account creation moment at exactly the same place: when they enter Wish, where they have little reason to sign up for an account
2.Too many steps result in 40% or more drop rate
Depending on the sign up channel that Wish users choose, the sign up process can take anywhere from 2-7 steps
3.Doesn't fully leverage social media to expand user bases
Wish currently doesn't leverage social media sign-ups to expand its user base.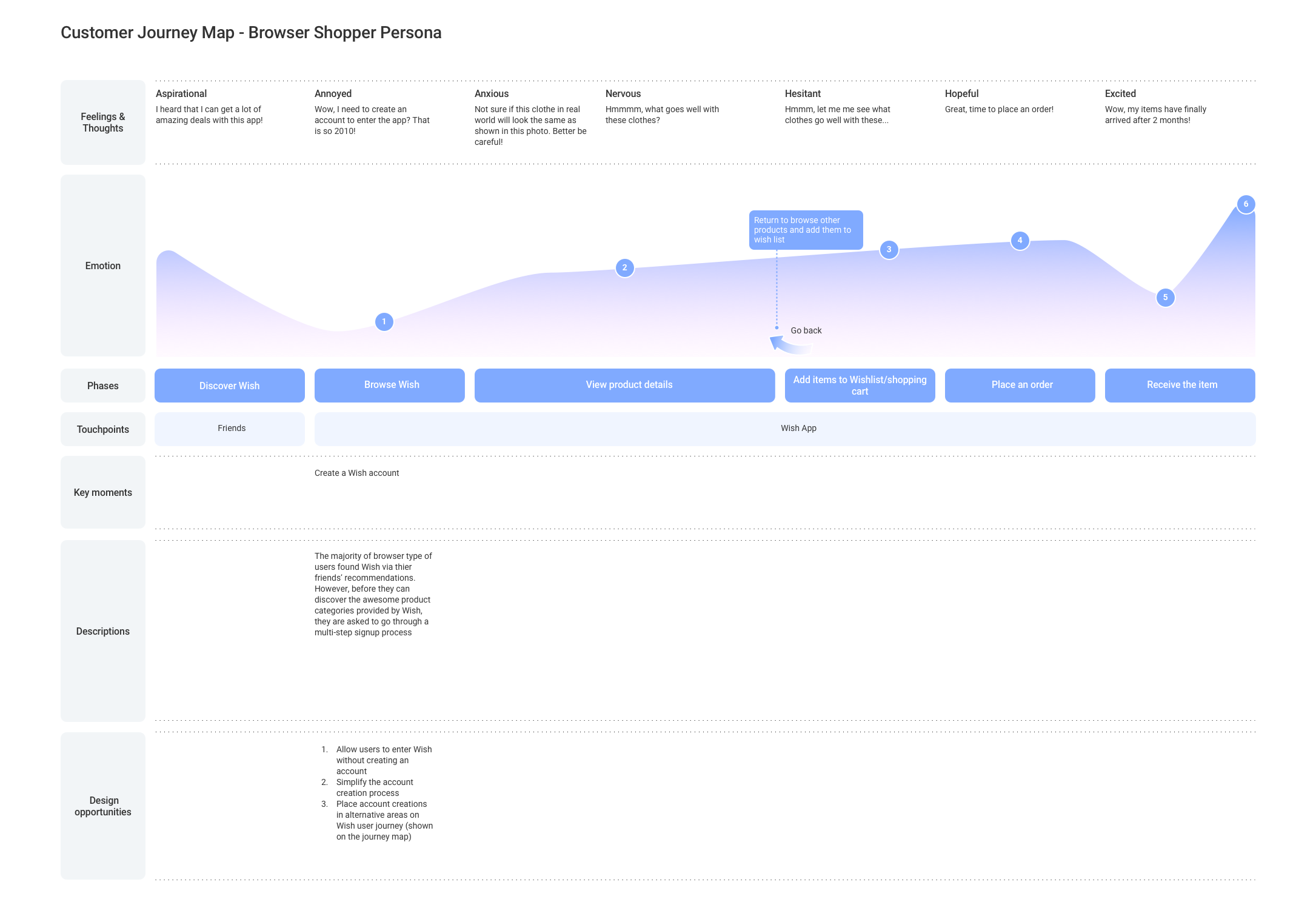 Next steps
1.Future Works
• Even easier for return users to log back in to Wish.
• Explore clothe shopping experience
• Implement feedback from user-testing
2.Reflections
Easier experience often occurs in tandem with higher privacy and security issues