Service Design, App Design, Music
Building an online to offline social network for amateur musicians
Length of the project: 3 months
My role: User research, User experience design, Visual design, Prototyping
Teammates: Devika Khowala, Emma Zeleko, John Walker Moosbrugger
Keywords: Service Design, O2O, Music
The problem statement
Music is more fun and compelling with other people but amateur musicians often struggle to find a local community of musicians they can connect with.
For many amateur musicians, finding other people to play music with can be surprisingly difficult. You need to have compatible schedules, personalities and music taste but all of that take time to develop.
Offbeat helps build local music communities of amateur musicians through its hosted events and digital platform.
Stakeholders
We have three main stakeholders on our platform
1.Amateur musicians: Offbeat wouldn't be much without its users and which is why Musicians are our key stakeholder.
2.The Event Host is the face of Offbeat. Apart from facilitating events, the host helps in building local music communities by connecting people.
3.Venue Partners: Offbeat partners with a variety of local venues to meet the need for its diverse events. Venues vary from neighborhood coffeeshops to maker spaces to unique experiences at breweries.
How does Offbeat work?
For a monthly subscription, Offbeat, through its hosted events and digital platform, provides a space for amateurs musicians to come together to play, learn new skills, listen to peers and pick up a few tips and tricks.
1.On the back end, Offbeat partners with small and big venues who provide us space in exchange for business and promotion.
2.Offbeat also collaborates with local music experts to share their experiences with its community of amateur musicians.
3.Apart from maintaining its own inventory, offbeat also partners with local equipment vendors as per need.
Competitive & User Research
Who are we helping?
We decided to focus on local amateur musicians because:
1.We liked that they were music creators, so we're helping them distribute content.
2.By focusing on local communities it let us engage with real human connections that often get lost in larger communities.
3.Rather than focusing only on professionals, we wanted to open it up to anyone with a passion for playing music.
…and what do they need?
1. Hard to find other amateur musicians to jam with
2. Hard to find practice space
3. Hard to find a place to perform
Who are the existing players in this space?
Online Platforms: Splice, Bandmix & Drooble
build connections between musicians only through the Internet. It is hard to curate a sense of belonging and often fail to help musicians find others who fit their personalities and skill sets
Meet up services: Genre specific, bluegrass, events bar
for musicians outside of the genre to atend. Usually self-organized,
Our competitors focus on building an online, global community for music enthusiasts, which don't address the problems we discovered
It is very important for amateur musicians to play together in the same physical space because it helps combine different styles of music and be creative with different instruments. Cross-pollination between different genres of musicians encourage more meaningful collaborations which will generate innovative arts that benefit Pittsburgh as a whole
02 Performance Opportunities
04 Finding Bandmates (Selected)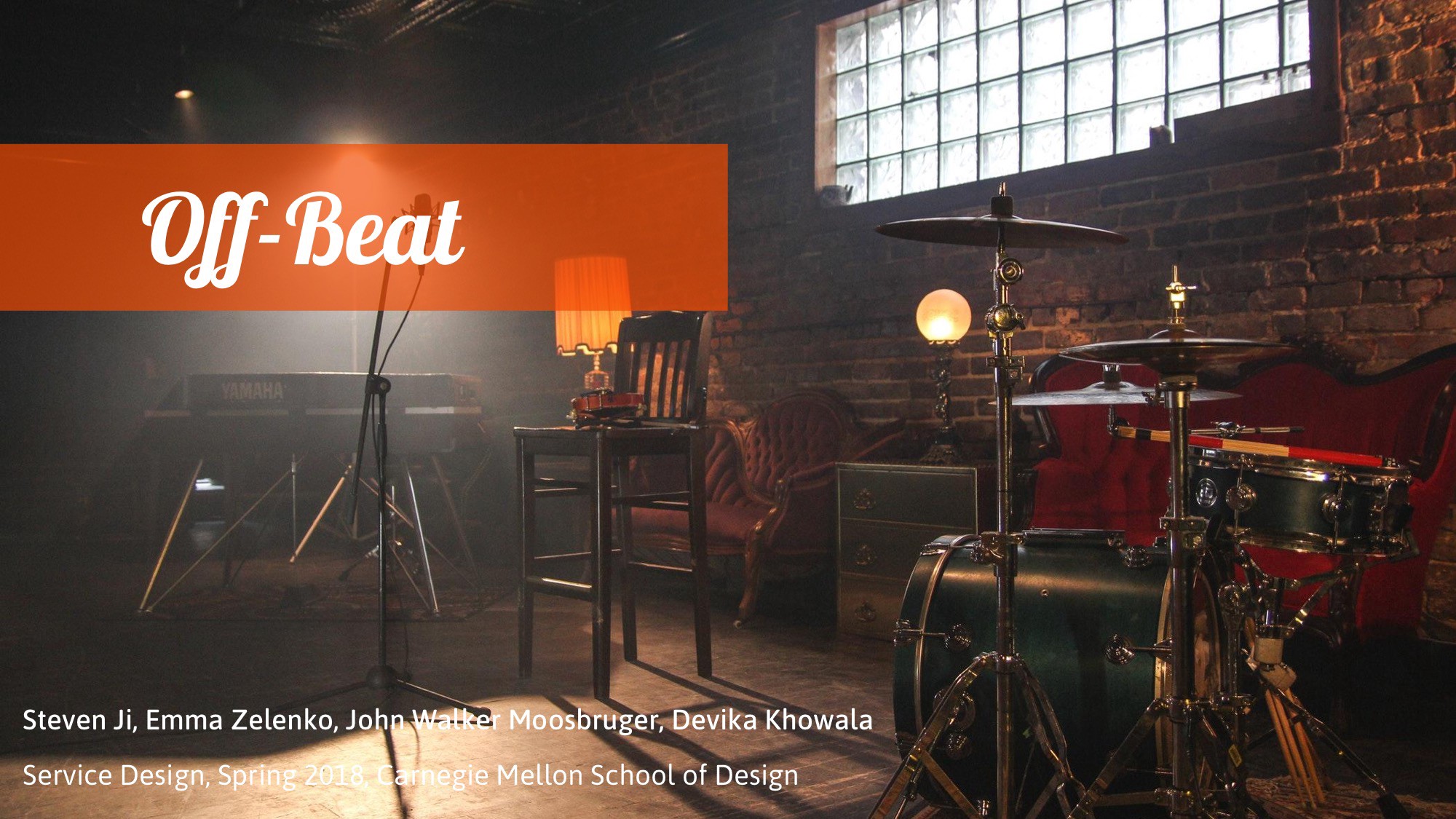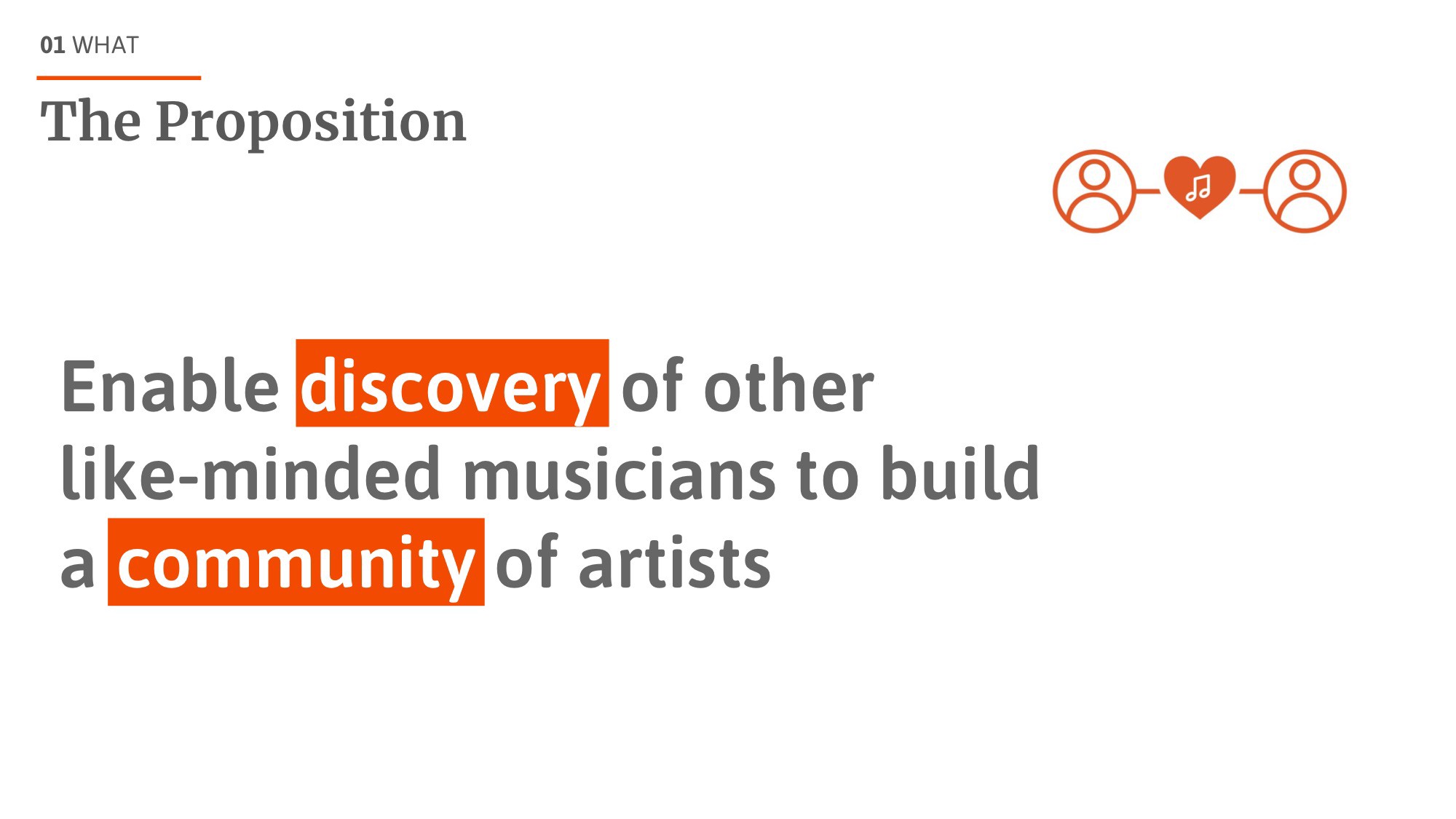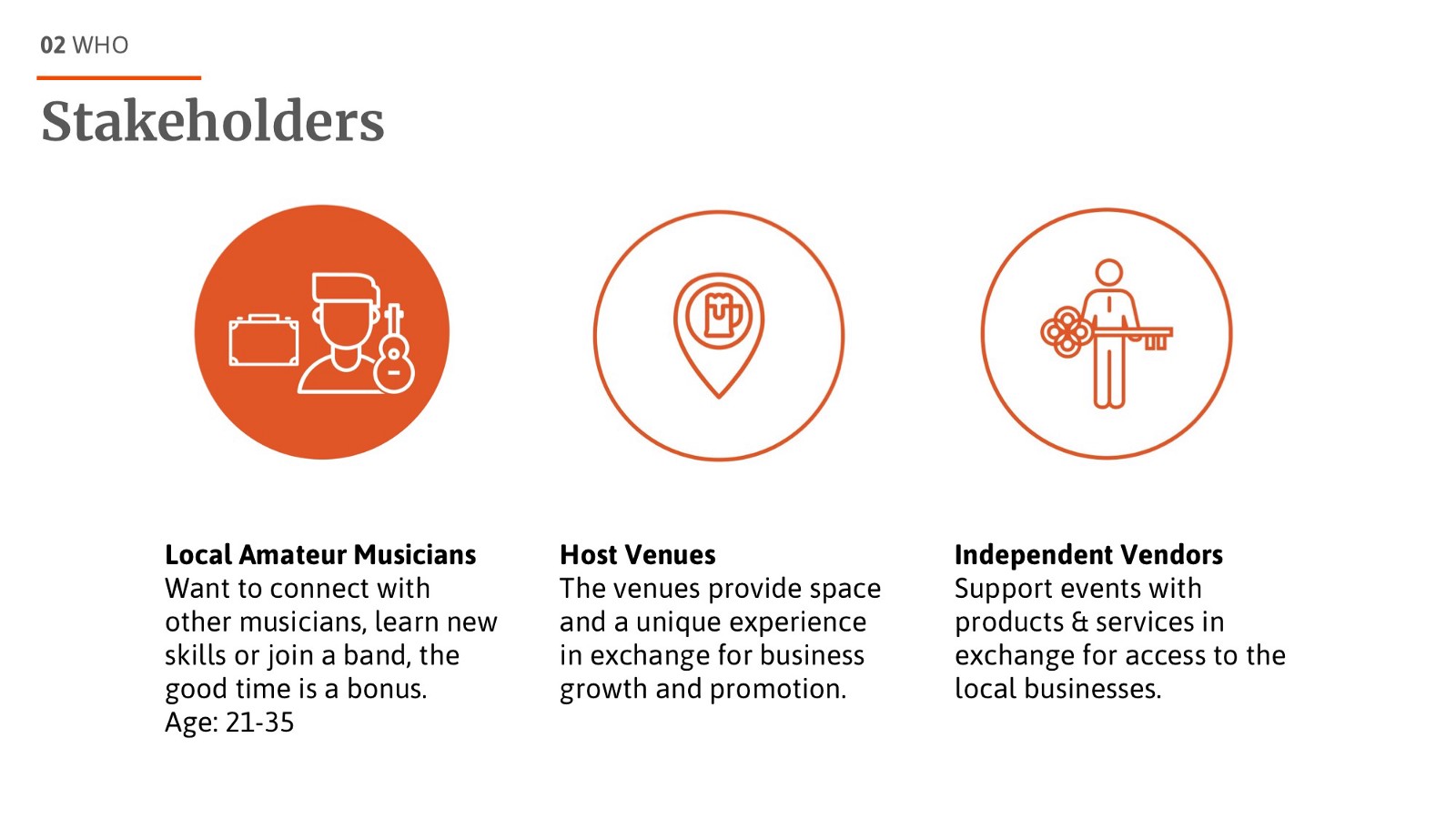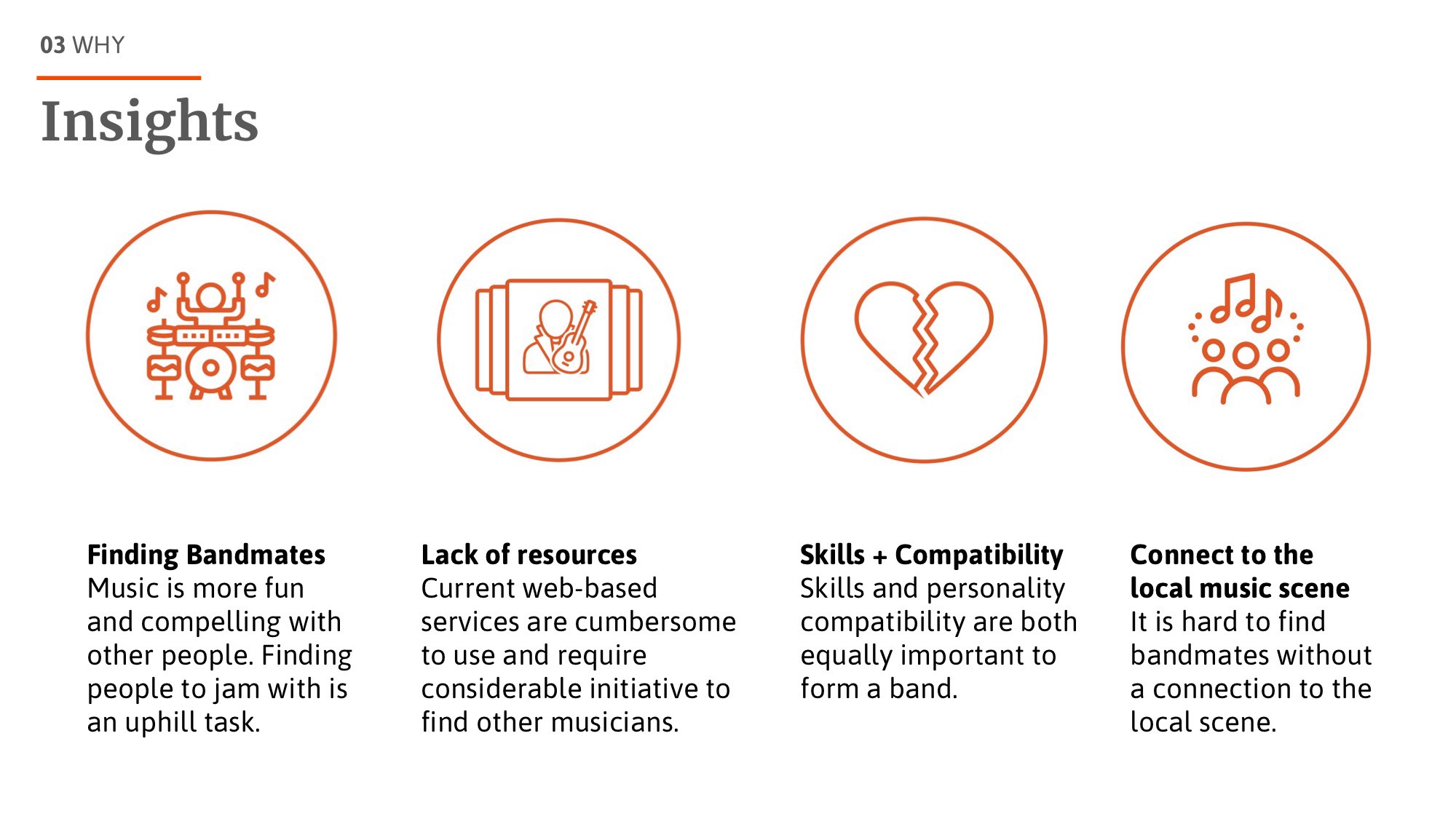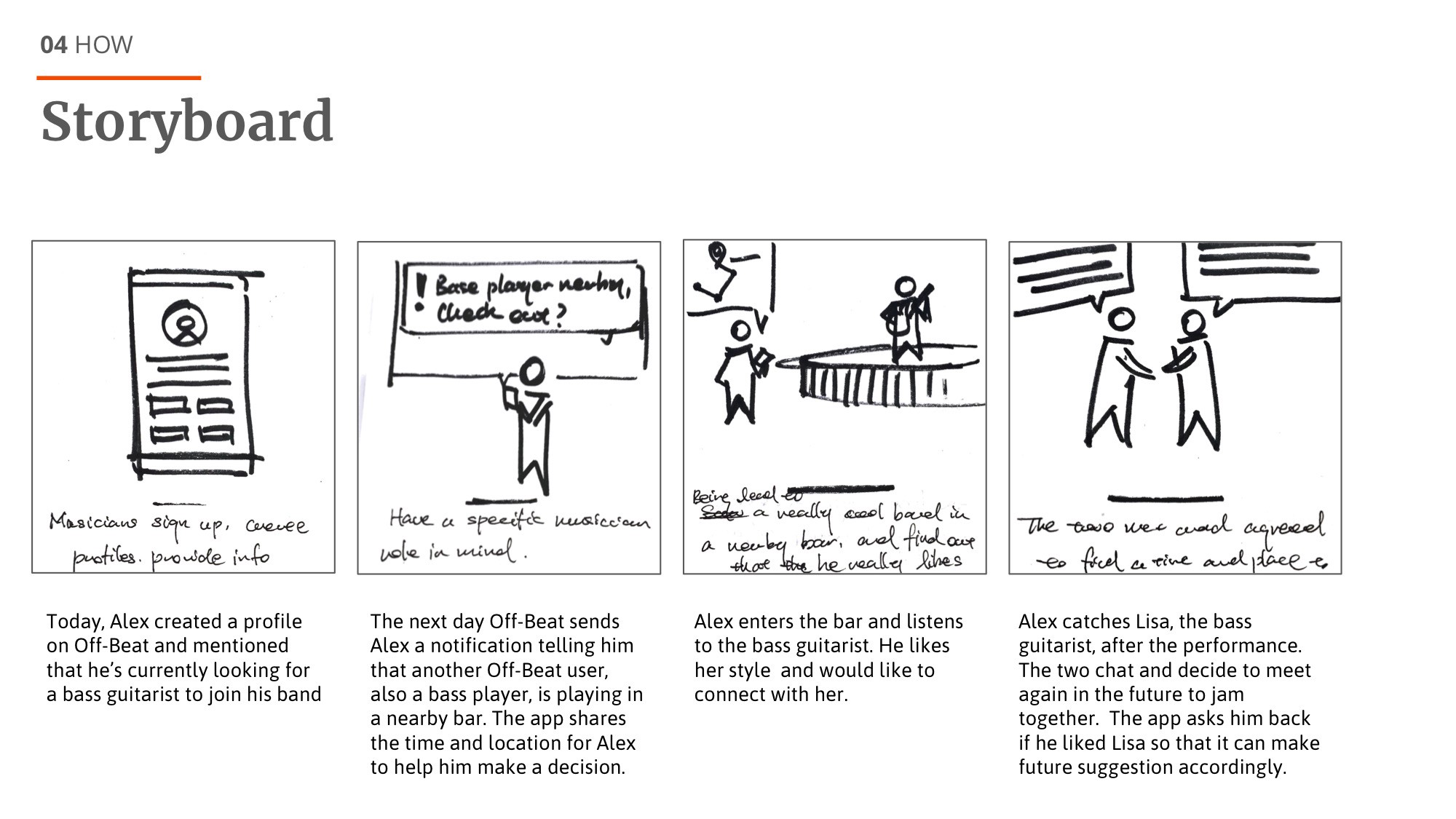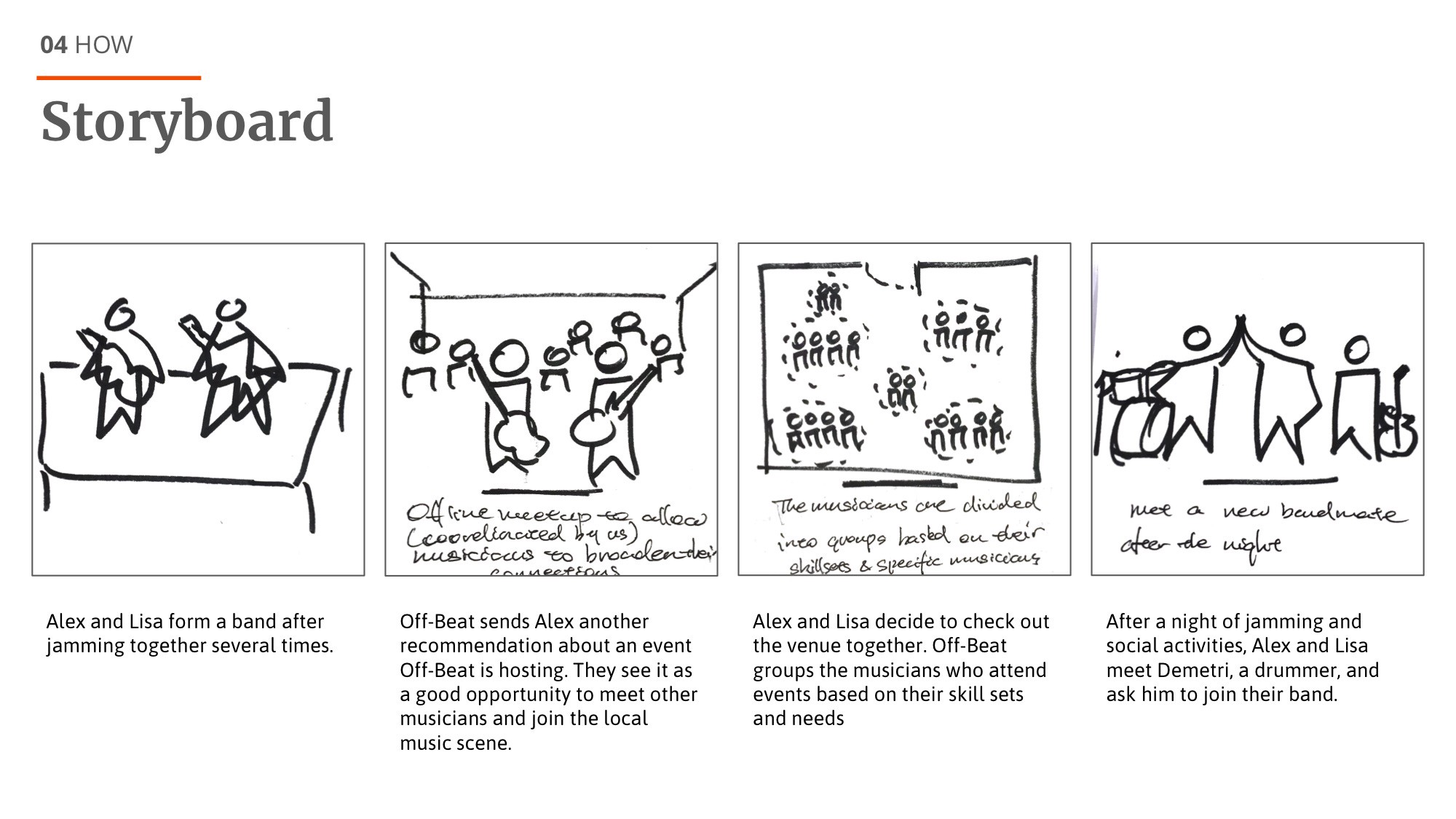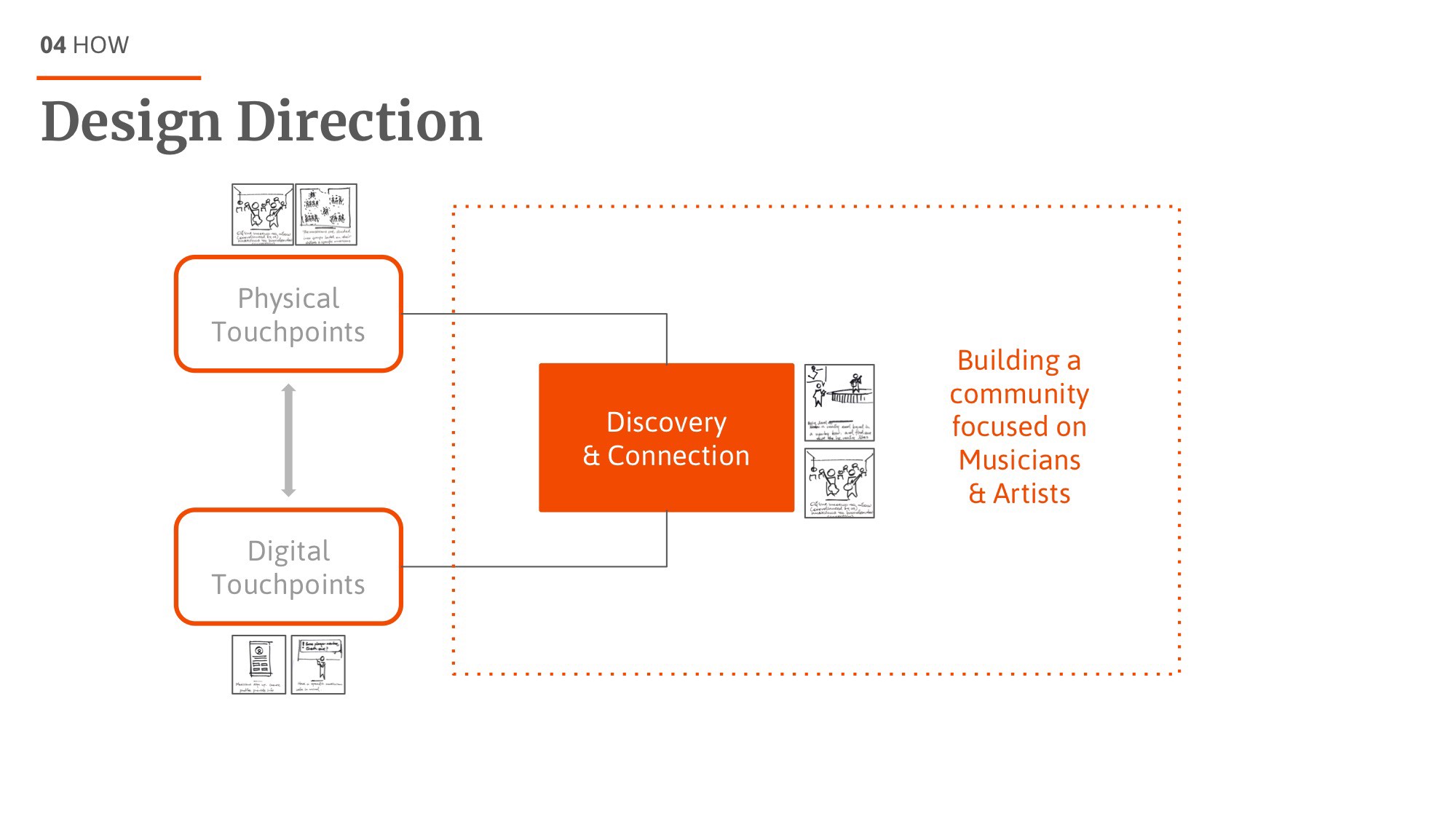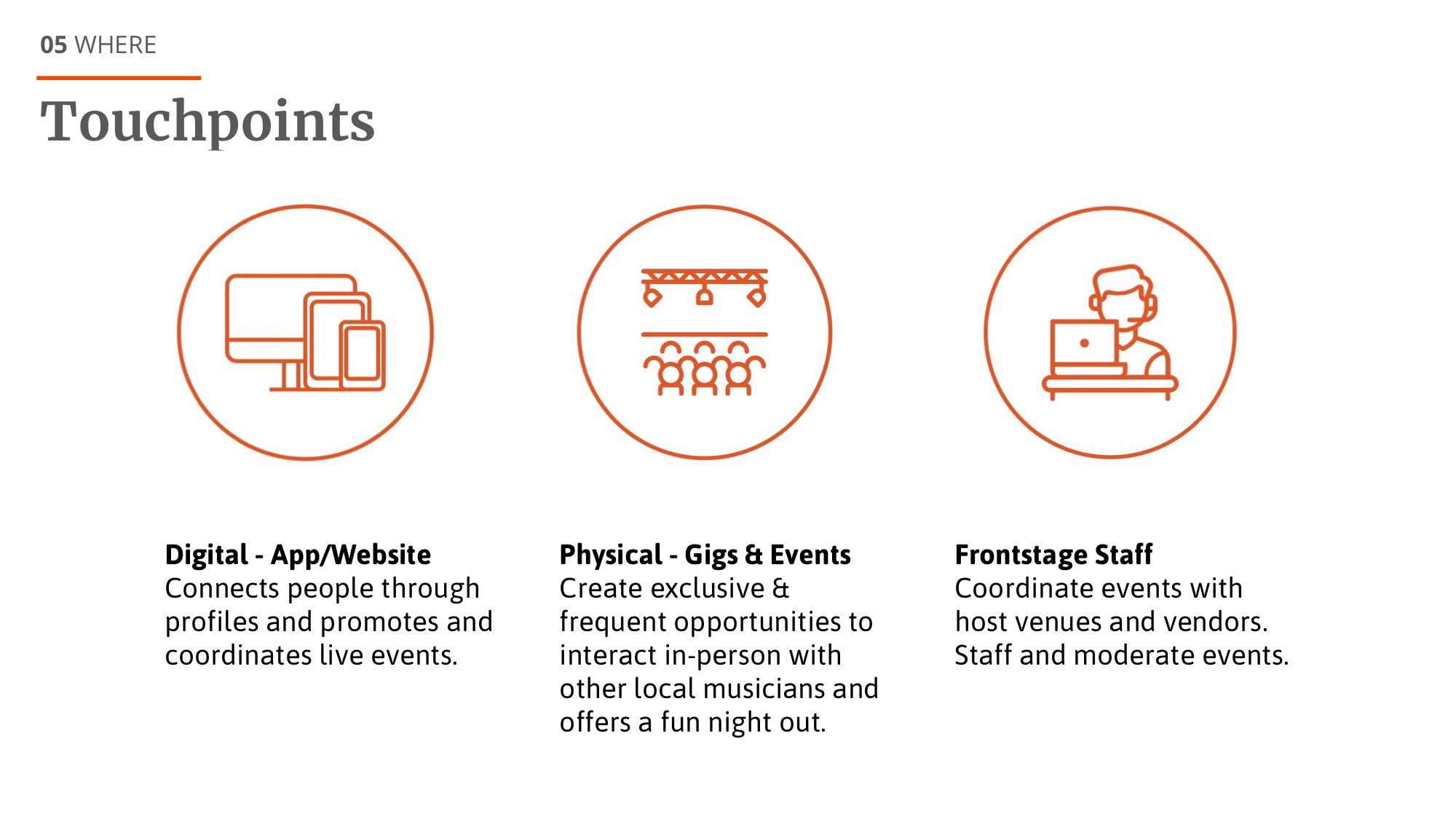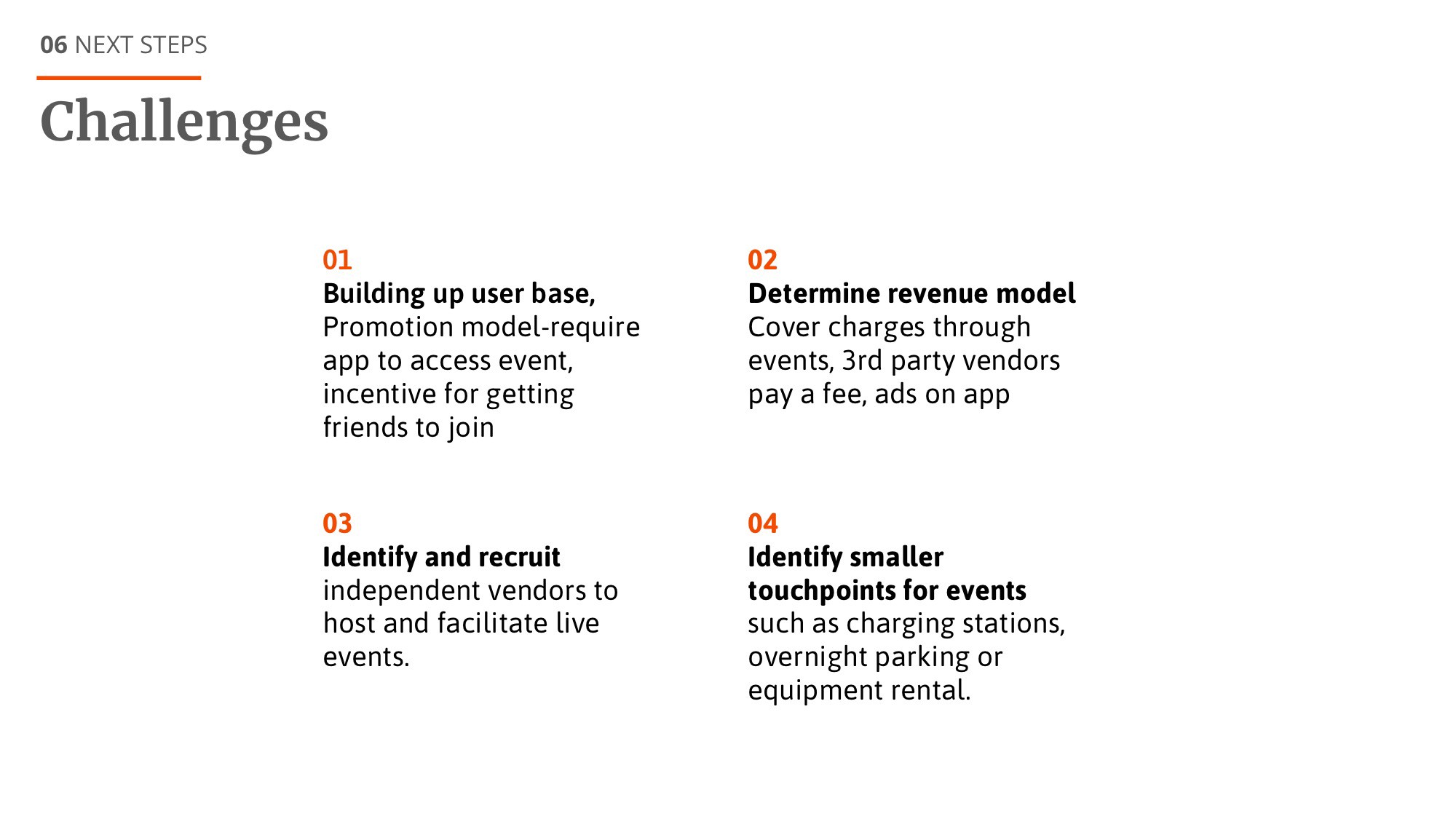 Moment of Truth & Pivot
As we continued to evolve ideas we realized there were a couple problems of it:
1. Finding bandmates not sustainable- when they find one they leave
2. We are not addressing the bigger problem which is to build a local community
3. By informing people of other gigs we couldn't control quality or help facilitate community and skill building. We needed to have a say in events so we could ensure they were welcoming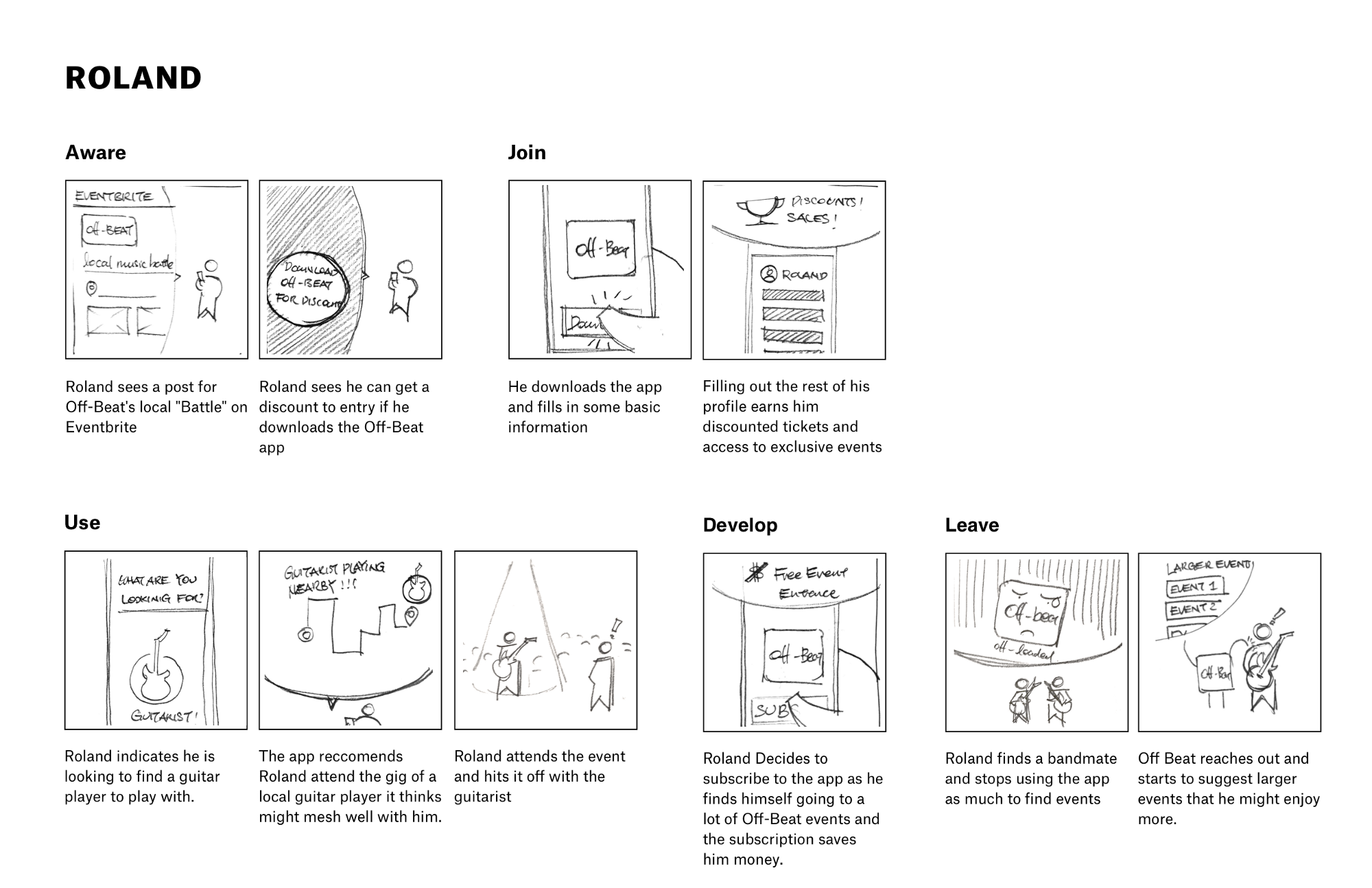 Scale Down & Refine
Offbeat focuses on hosting three types of music events
We surveyed musicians to see the type of events they were interested in. They told us that they were most excited by open mic, jam session, workshops because: 1.improve skills 2. not feel judged (no competitions or feedback)
The next challenge for us is to understand what is a jam session and how that is facilitated. We storyboarded various levels of structure in facilitation and speed dated themWe also observed an actual local jam session
From the trip, we learned that:
Take care of things but don't force

Jam sessions are events where musicians play together with no set script

They would like to be provided with equipments,

food and drink were helped make it fun casual environment

The jam itself is a play process and doesn't need much facilitation
Offbeat uses subscription model and only partners with venue providers
We realized we were stretching ourselves too thin financially and needed to scale down and focus on our core value of building community:
Too many partners

User organized events harder to regulate and can be found in existing services (like Eventbrite)

Multiple revenue models made it hard for us to figure out needed subscription price and would be overly complicated for users. Free month is a better way for users to test service.
Reflections:
1.People want to explore outside of their comfort zone of musical genres - see how they mix
2.Personality is a huge part of finding compatible and is really hard to determine online
3.Meeting in person is the best way to make connections - something we saw when filming the video
The next steps for us are:
1. We would like to build awareness of our service among our potential customers
2. Second, we want to adjust our offering according to the needs of the neighborhood
3. Launch this service first in communities where music scenes are alive, such as Shady-side, and then expand outward to other neighborhoods where there's no pre-existing music communities